Jodrell Bank shortlisted as a World Heritage site
22 March 2011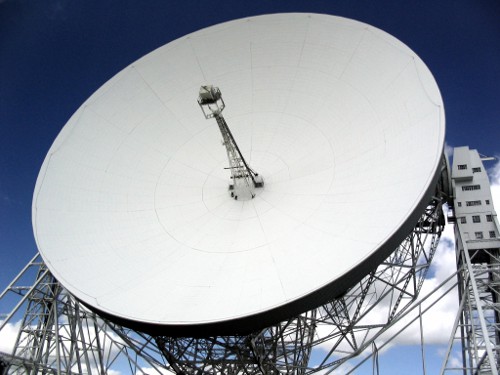 The Lovell Telescope at Jodrell Bank.
Image Credit:
Anthony Holloway, University of Manchester
The University of Manchester's world-famous Jodrell Bank Observatory has been put on the UK shortlist as a potential UNESCO World Heritage site.
Home to the iconic Lovell Telescope, the Cheshire research centre and visitor attraction has been put forward as one of 11 venues under consideration for the honour.
The shortlisting is a considerable accolade for Jodrell Bank, which is currently undergoing a £3m facelift including a brand new Discovery Centre.
Announced by Tourism and Heritage Minister John Penrose, the list will be submitted to UNESCO with the aim of nominating new sites from 2012.
Part of The University of Manchester's School of Physics and Astronomy, the Observatory is a unique combination of live science and a visitor attraction.
Dr Teresa Anderson, director of the new Discovery Centre, said:
"We're absolutely delighted to hear that we have been included on the UK Tentative List for World Heritage Site status.

"Jodrell Bank has earned its place on the list by being a place where live science has completely reframed the way in which humanity sees its place in the Universe.

"The priority for Jodrell Bank is research. This is its guiding principle, which means that research always takes precedence over conservation of its telescopes just as monuments to past achievements.

"This news is testament to the devotion and dedication of Sir Bernard and of all the staff who have worked at Jodrell Bank over the years."
Having being set up at the end of World War II by Sir Bernard Lovell to study meteor showers, astronomers then began building the world's largest radio telescopes in succession.
Despite its major role in the Space Race in the 1950s and 60s and being used as an early warning system during the Cuban Missile Crisis, the Lovell Telescope in fact works predominantly on scientific research.
At the forefront of Astrophysics since its inception, it is world leading in the research of quasars, pulsars, gravitational lensing and in the development of interferometry.
Sir Bernard recently remarked that the field of astrophysics has evolved so much in recent years that the Observatory now studies phenomena that were unimagined at the time of its establishment.
Mr Penrose said:
"Few places in the world can match the wealth of wonderful heritage we have available in the UK.

"The 11 places that make up the new UK Tentative List are fantastic examples of both our cultural and natural heritage and I believe they have every chance of joining famous names like the Sydney Opera House and the Canadian Rockies to become World Heritage Sites.

"I'd like to thank the independent expert panel chaired by Sue Davies who have been through all our nominations in detail to make sure the shortlist we now have gives us the best chance of success when putting forward any of these sites to UNESCO in future."
For Jodrell Bank media enquiries contact:
Daniel Cochlin
Media Relations
The University of Manchester
0161 275 8387
daniel.cochlin@manchester.ac.uk