UK-Germany National Astronomy Meeting NAM2012
Milky Way image reveals detail of a billion stars
Royal Astronomical Society press release
RAS PR 12/30, NAM 21
29 March 2012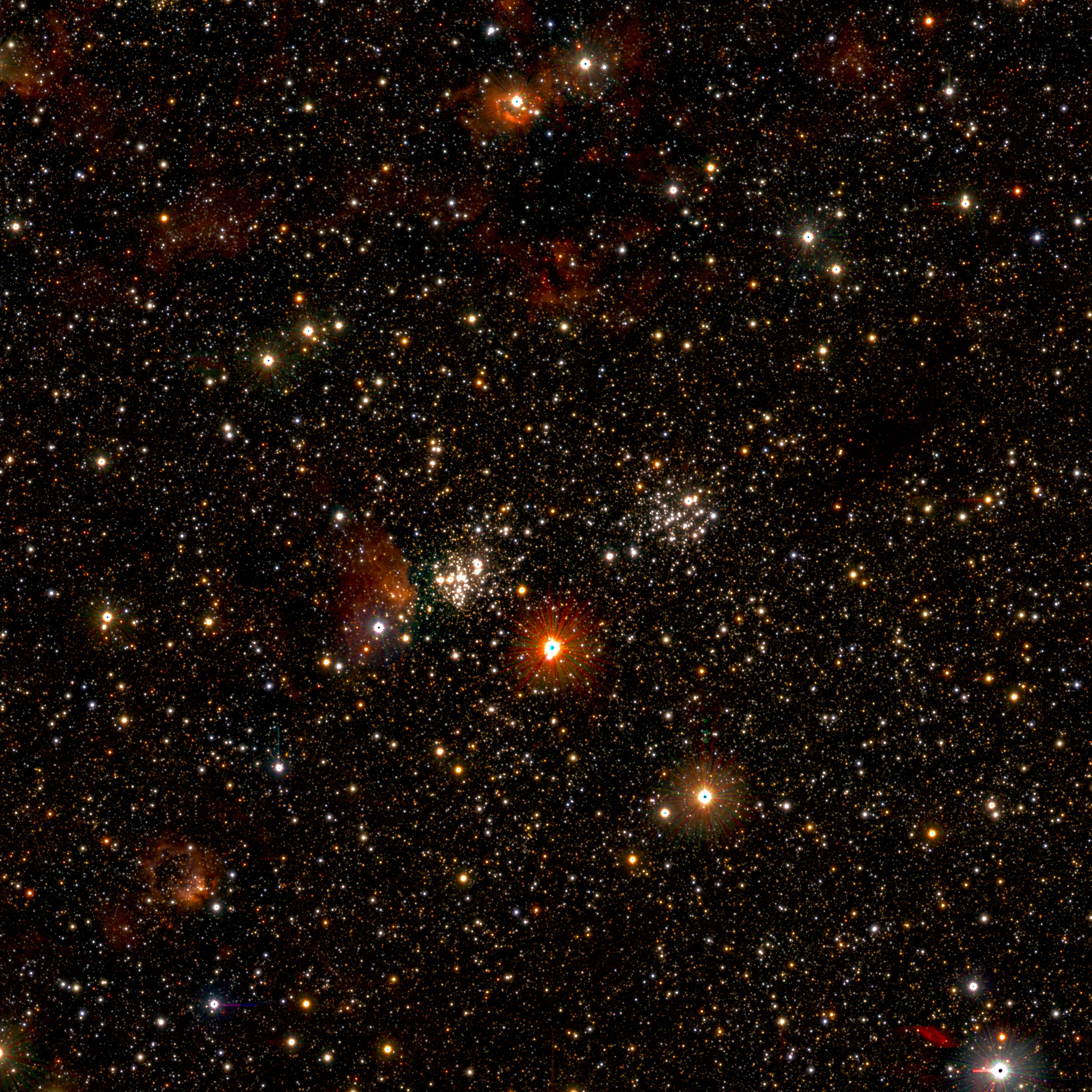 Detail of star-forming area in Milky Way
More than one billion stars in the Milky Way can be seen together in detail for the first time in an image captured by an international team of astronomers. Scientists created the colour picture by combining infra-red light images from telescopes in the northern and southern hemispheres. Large structures of the Milky Way galaxy, such as gas and dust clouds where stars have formed and died, can be seen in the image. Dr Nick Cross of the University of Edinburgh will present the new work on Thursday 29 March at the National Astronomy Meeting in Manchester.
The picture represents part of a 10-year project involving scientists from the UK, Europe and Chile, who gathered data from the two telescopes. The information has been processed and archived by teams at the Universities of Edinburgh and Cambridge, who have made it available to astronomers around the world for further studies.
Archived information from the project - known as the VISTA Data Flow System - is expected to enable scientists to carry out groundbreaking research in future years without the need to generate further data.
The image shows the plane of the Milky Way galaxy, which is often described as looking like two fried eggs back-to-back, with a flat disc in the middle. Earth is close to the edge of this disc, and the image shows a cross-section through the disc as seen from Earth's perspective.
It combines data from the UKIDSS/GPS sky survey taken by the UK Infrared Telescope in Hawaii with the VVV survey from the VISTA telescope in Chile.
Astronomers used infra-red radiation instead of visible light to enable them to see through much of the dust in the Milky Way and record details of the centre of the galaxy.
Scientists have published the image online with an interactive zoom tool that reveals the detail within. Zooming into the image reveals a tiny fraction of the entire picture, which alone contains more than 10,000 stars.
The work was supported by the Science and Technology Facilities Council.
Dr Nick Cross, of the University of Edinburgh's School of Physics and Astronomy, said: "This incredible image gives us a new perspective of our galaxy, and illustrates the far-reaching discoveries we can make from large sky surveys. Having data processed, archived and published by dedicated teams leaves other scientists free to concentrate on using the data, and is a very cost-effective way to do astronomy."
IMAGES
Images are available for download from the following sites, please credit Mike Read (WFAU), UKIDSS/GPS and VVV:
Full billion-star image:
http://djer.roe.ac.uk/vsa/vvv/vvv_gps.tif (304 MB 39300x3750 pixels)
http://djer.roe.ac.uk/vsa/vvv/vvv_gps_2.tif (27MB 19650x1875 pixels)
http://djer.roe.ac.uk/vsa/vvv/vvv_gps_2.jpg (14 MB 19650x1875 pixels)
Shot of star-forming area in Milky Way:
http://djer.roe.ac.uk/vsa/vvv/subimages/b305_3_box.jpg
Detail of star-forming area in Milky Way (white box outlined in image above):
http://djer.roe.ac.uk/vsa/vvv/subimages/b305_0.jpg
More details at
www.ph.ed.ac.uk/news/milky-way-image-reveals-detail-billion-stars-27-03-12
MEDIA CONTACTS
(National Astronomy Meeting)
NAM 2012 Press Office (0900 - 1730 BST, 27-29 March; 0900 - 1630 BST 30 March)
Room 3.214
University Place building
University of Manchester
Manchester
UK
Tel: +44 (0)161 306 7313
Dr Robert Massey
Royal Astronomical Society
Mob: +44 (0)794 124 8035
Email: rm@ras.org.uk
Anita Heward
Royal Astronomical Society
Mob: +44 (0)7756 034 243
Email: anitaheward@btinternet.com
Dr Klaus Jaeger
Pressereferent / Press Officer im Vorstand der Astronomischen Gesellschaft
Tel: +49 6221 528 379
Email: pressereferent@astronomische-gesellschaft.de
Dan Cochlin
Media Officer (Faculty of Engineering and Physical Sciences)
University of Manchester
Tel: +44 (0)161 275 8387
Email: daniel.cochlin@manchester.ac.uk
(University of Edinburgh)
Catriona Kelly
Press and PR Office
University of Edinburgh
Tel: +44 (0)131 651 4401
Email: catriona.kelly@ed.ac.uk
SCIENCE CONTACTS
Dr Nick Cross School of Physics and Astronomy Tel +44 (0)7511 536441 Email: njc@roe.ac.uk
NOTES FOR EDITORS
NAM 2012
Bringing together more than 900 astronomers and space scientists, the National Astronomy Meeting (NAM 2012) will take place from 27-30 March 2012 in the University Place conference centre at the University of Manchester in the UK. The conference is a joint meeting of the Royal Astronomical Society (RAS) and the German Astronomische Gesellschaft (AG) and is held in conjunction with the UK Solar Physics (UKSP: www.uksolphys.org) and Magnetosphere Ionosphere Solar Terrestrial (MIST: www.mist.ac.uk) meetings. NAM 2012 is principally sponsored by the RAS, AG, STFC and the University of Manchester.
The Royal Astronomical Society
The Royal Astronomical Society (RAS: www.ras.org.uk), founded in 1820, encourages and promotes the study of astronomy, solar-system science, geophysics and closely related branches of science. The RAS organises scientific meetings, publishes international research and review journals, recognizes outstanding achievements by the award of medals and prizes, maintains an extensive library, supports education through grants and outreach activities and represents UK astronomy nationally and internationally. Its more than 3500 members (Fellows), a third based overseas, include scientific researchers in universities, observatories and laboratories as well as historians of astronomy and others.
The Astronomische Gesellschaft (AG)
The Astronomische Gesellschaft (AG: www.astronomische-gesellschaft.de), founded in 1863, is a modern astronomical society with more than 800 members dedicated to the advancement of astronomy and astrophysics and the networking between astronomers. It represents German astronomers, organises scientific meetings, publishes journals, offers grants, recognises outstanding work through awards and places a high priority on the support of talented young scientists, public outreach and astronomy education in schools.
The Science and Technology Facilities Council
The Science and Technology Facilities Council (STFC: www.stfc.ac.uk) is keeping the UK at the forefront of international science and tackling some of the most significant challenges facing society such as meeting our future energy needs, monitoring and understanding climate change, and global security. The Council has a broad science portfolio and works with the academic and industrial communities to share its expertise in materials science, space and ground-based astronomy technologies, laser science, microelectronics, wafer scale manufacturing, particle and nuclear physics, alternative energy production, radio communications and radar. It enables UK researchers to access leading international science facilities for example in the area of astronomy, the European Southern Observatory.
Jodrell Bank Centre for Astrophysics
The Jodrell Bank Centre for Astrophysics (JBCA: www.jb.man.ac.uk) is part of the School of Physics & Astronomy at the University of Manchester. JBCA is split over two main sites: the Alan Turing Building in Manchester and the Jodrell Bank Observatory in Cheshire. At Jodrell Bank Observatory, the new Jodrell Bank Discovery Centre is a key focus for our work in public engagement and education. Jodrell Bank is a world leader in radio astronomy-related research and technology development with a research programme extending across much of modern astrophysics. The group operates the e-MERLIN national radio astronomy facility and the iconic Lovell Telescope, hosts the UK ALMA Regional Centre Node and is home to the international office of the SKA Organisation. Funded by the University, the Science & Technology Facilities Council and the European Commission, it is one of the UK's largest astrophysics research groups.