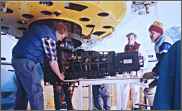 The second Manchester Echelle spectrometer being installed in 1995 at the San Pedro Martir telescope in Mexico.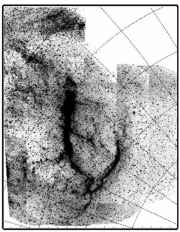 The 25 degree long arcs of ionized gas in the Eridanus Constellation were first discovered by the group in 1965. The new (negative) image shown here was obtained in the light of the hydrogen alpha line with the Manchester wide field CCD camera for detailed comparison with X-ray, far infrared and radio images recently obtained of these the nearest interstellar shells.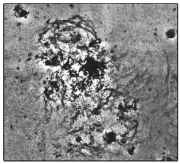 The 1000 parsec diameter supergiant shells shown here were found using this group's interference filter (32 cm. square) combined with the UK Schmidt telescope. They surround the turbulent 30 Doradus nebula, stirred up by successive supernova explosions and particle winds from hot massive star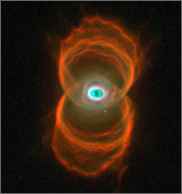 An HST image of the Hourglass planetary nebula. Bi-polar streams of hypersonic bullets of ionized gas have been discovered streaming along the nebular axis.