The Night Sky June 2020
Compiled by Ian Morison
This page, updated monthly, will let you know some of the things that you can look out for in the night sky. It lists the phases of the Moon, where you will see the naked-eye planets and describes some of the prominent constellations in the night sky during the month.
New(ish)
The author's: Astronomy Digest
which, over time, will provide useful and, I hope, interesting articles for all amateur astronomers. A further aim is to update and add new material to link with the books recently published by Cambridge University Press and which are described on the home page of the digest. It now includes over 70 illustrated articles.
Image of the Month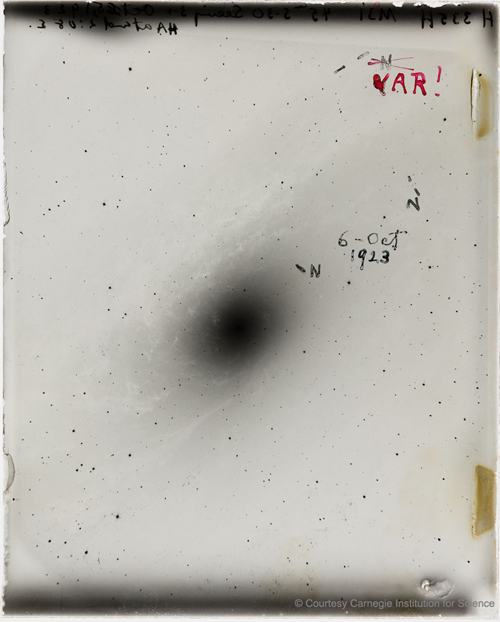 Edwin Hubble discovers a Cepheid Variable in the Andromeda Galaxy
Image: Carnegie Institution for Science
I believe that this is the most significant astronomical image of the last century. Henrietta Leavitt had shown that the brightness of Cepheid Variables was related to their period, so that if the period of a Cepheid Variable could be measured, its brightness could be estimated and hence its distance found. In the early part of the last centure it was not known if the so-called 'White Nebula' were inside or beyond our own galacy. Edwin Hubble searched the Andromeda Galaxy for Cepheid Variables and, on the 6th of October 1923, found one as seen in the image above. Its light curve showed a period of ~30 days and, from Leavitt's observations of Cepheid variables in the Small Magellanic Cloud, this gave a brightness of ~10,000 times that of our Sun. This showed that the Andromeda Galaxy lay well outside our galaxy.
Measuring the distances of 22 galaxies whose recession velocites had been measured by Vesto Slipher, Hubble showed that the speed of recession was proportional to their distance - which showed that the Universe was expanding and was then able to estimate the age of the Universe.